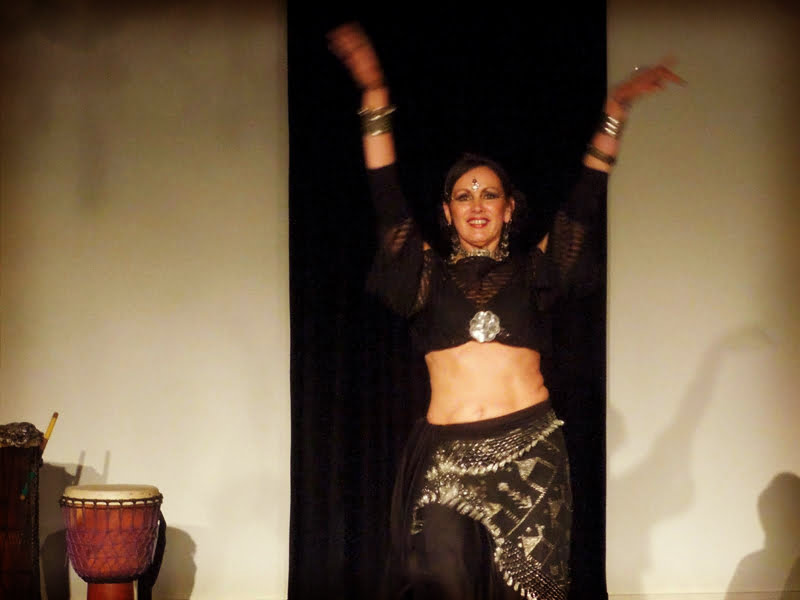 Cathie Gorman
Troupe member, teacher
When and where were you born? Brisbane 1962.
How long have you been dancing? I started learning bellydance with Terezka Drnzik in 1986. Later, I studied with Kaiya Seaton, who was a major influence in my dance development. I danced with her troupe, The Raqs Sharqi Dancers (including Rachelle Bryden and Devi Mamak) from 1996 to 2001. In January 2001, Kaiya asked me to take over teaching her classes, and my previous troupe (Zhagareet) was formed in 2002.
What other dance styles have you done? I studied Flamenco with Rika Krystall and Julie Ouliarin from 2002-2007.
How long have you been doing ATS? Devi started teaching me moves as soon as she returned from San Franscico in 1999, and I had a brief interlude in 2002 as a member of Ghawazi Caravan but found that I just didn't have the time to commit fully. So ATS went on hold until 2007 when I started classes again with Devi and joined her student troupe Ghaziya.
What appeals to you about ATS? Any other dance passions? When Devi and I first saw a video of Fat Chance Belly Dance, Devi focussed on the dancing, whereas I was looking at the 'punk' spikey bangles Carolena was wearing. I also loved that they looked like one of my heroes, Frida Kahlo. So at first I was drawn to 'the look', but now that I understand ATS, I love the structure, posture and language.
I am regularly moved to tears by Flamenco and Egyptian style belly dance (which I still teach).
I feel all three styles of dance promote women's innate strengths, which only increase as we mature.
What about your personal life? I am married to an author, Steven Herrick, and have two sons, Jack and Joe. My beautiful husband and I are travelling a lot!
What are your hobbies? Reading, music and travel.
What dancers inspire you? So hard to choose, but the top 5 are: Ghawazi Caravan, Jrisi Jusakos, Amera Eid, Suraya Hilal, and Fifi Abdou.
Where do you see yourself and Ghawazi in the future? I feel so blessed to be a part of this gorgeous group of dancers, and I want to keep learning, and enjoying any opportunities that come our way. Oh, and eating Di's cakes…