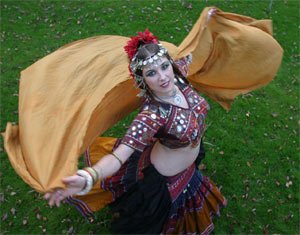 April Erzetich
Teacher and troupe member
Originally from Newcastle, April has been dancing since she was three when she started Jazz ballet. She danced with the same school to the age of 16 in this time studying classical, modern and hip-hop. In 1996 April started learning Egyptian Baladi in Newcastle (1996-2000) where she progressed quickly to be a troupe performer and a substitute teacher for Dance of Life belly dance school. Her teaching experience extended to workshops for the youth at community centres, Camp Quality, and High Schools.
April has been training in FCBD® Style (ATS) since 2001 and performing with Caravan Dance Company since the beginning of 2006. April first travelled to San Francisco and Tribal Fest to perform with Caravan Dance Company in 2004 studying with Jill Parker, Carolina Nerriccio, Domba, Suhaila and Colleena Shakti. She returned in 2005 to study extensively with Jill Parker and then again in 2010, 2012 and 2014 to perform and/or assistant teach at Tribal Fest. April was also involved in the filming of FatChanceBellyDance®'s Volume 9 Anatomy of a Step and their "The Home" show 2011 in Berkely.
April completed her General skills with Carolina Nericcio in 2007 and teacher training with Devi Mamak in 2008-9 and 2013. She ran a weekly FCBD® Style class under the Caravan Dance Company (then Ghawazi Caravan) Banner in Katoomba 2006-7, Paramatta in 2007 and later in Newcastle in 2013-14. April has taught and/or co-taught workshops in Sydney, Newcastle, The Hunter Valley, Adelaide, Perth, New Zealand, America, Canada, India and Germany.
In addition to FCBD® Style, April studied flamenco in Canada with Maria Osende 2005, Veronica Gilmore and Elena Varga 2019-2021 in Katoomba.
April studied intensively in India at the Shakti School of Dance for two consecutive years of school 2009/10. Here April learnt Kalbelia, Rajasthani folk and Indian fusion dance as well as Classical Odissi Dance. This intensive training lead April to create choreographies and workshops in Indian fusion styles as well as Rajasthani folk/ Kalbelia Dance. She has choreographed many pieces for Caravan Dance Company in a variety of styles and contributed choreographies to the 'Intertwine Project' starting in 2009.
April has recently had moves of her creation added to Devi's Inspired Combinations Volume 2/3 (2021).
April's love of dance extends to the adornment of a dancer. As metalwork and jewellery making are a passion of April's she has been creating hand crafted jewellery for the dancer for on and off the stage since 2010. When in India, April studied traditional silversmithing techniques with Gurudatt Soni who comes from a family lineage of Goldsmiths. These techniques appear heavily in April's work to date. You can find out more about Aprili Designs at www.aprilidesigns.com.au
Interview
What do you do for a living? I currently work as a freelance support worker for people with disabilities and I run my own jewellery business from home, Aprili Designs.
What appeals to you about  Modern Fusion Bellydance (Tribal)? The strength and grace of small but very controlled movement and the power of the flamenco influenced posture was the main attraction , as well as the gorgeous black skirts. I also liked the idea of improvisation amongst dancers… Oh and the opportunity to wear lots of elegantly crafted beautiful chunks of silver.
Hobbies? I've turned my silversmithing hobby into a business so now I guess my hobbies are the gardening and baking food from the garden. I also still work with sculpture and weaving and either work towards my own shows or create works for private commission. I also love to go walking in the Blue Mountains with my husband.