Workshops with Ghawazi Caravan
Due to Covid 19 and for a limited time only,

Devi will be offering some online workshops. Contact Devi for more info.
ONLINE WORKSHOPS WITH            DEVI MAMAK
For the first time ever and due to the strange times we are living in…
Devi has filmed five workshops that will be available as a link via Vimeo. Grab the link in your own time and watch as often as you like!
Ten hours of learning material in total in a variety of styles and topics, see below to find out what is on offer. Message Devi to find out more about the topics.
The workshops are either 1, 2 or 3 hours in length.
The cost is AU$20 per hour or buy the whole 10 hours for AU$180.
Email devimamak@ghawazicaravan.com or send her a FaceBook message with your workshop order and payment method.
Make payment through direct debit (preferable if you live in Australia) or PayPal, the address is devimamak@ghawazicaravan.com
Links will be emailed to you once payment goes through.
All workshops use music by Sydney artists. These truly talented musicians are Devi's family, friends and colleagues. I hope you will help us support them in these uncertain times and check out their tunes!
Regular ATS® and fusion workshops are scheduled in the Blue Mountains of New South Wales. Devi has also held workshops in all around Australia, New Zealand, Asia, Europe, the USA and other areas.
Devi Mamak and Ghawazi Caravan are also pleased to be able to host workshops with international guest teachers.
If you are interested in learning more about any of our workshops, or would like Devi to conduct a workshop in your area, then please email devimamak@ ghawazicaravan.com
See our Upcoming Events page for Devi Mamak and Ghawazi Caravan's workshop schedule.
For a full workshop 'menu' to choose from, contact us! Devi's latest intensive STAGECRAFT! is a new and exciting 3 or 4 day course. STAGECRAFT! gives dancers the tools to create for themselves. To understand movement and the music they are dancing to and how to get to the creative process right through to the stage, step by step.
"Through Stagecraft, Devi offers a wealth of meticulously clarified insights that she has gleaned from her many years of experience as a dance artist, performer, musician, and teacher. The content of Stagecraft is rich and invaluable, and Devi's teaching is inspiring and refreshingly down-to-Earth. The concepts covered in Stagecraft are woven together in way that offers a holistic approach to performing, addressing both internal and external factors, and the exercises students undertake are extremely helpful for putting the new information to practical use in their own dancing. Devi is an exquisite dancer, and a very observant and present teacher who puts everything into helping her students to get the most out of the material she is sharing. Stagecraft has changed how I think about performance." Jess Russell Davies. STAGECRAFT!. Sydney 2017
Devi offers workshops in ATS® (including the Appraisal Workshop Collection) as well as a variety of fusion styles unique to her.
"I really do want to thank both of you so much for the wonderful 3 days of Drills & Individual Appraisal course and for creating the opportunity for feedback….. I really did have several momentous realisations over the weekend which has helped me to slot things into place…. If anyone is considering studying with Devi, then stop thinking about it and just book – she's worth every penny." – Kelley Beeston, UK dancer at our Edinburgh 2013 workshops.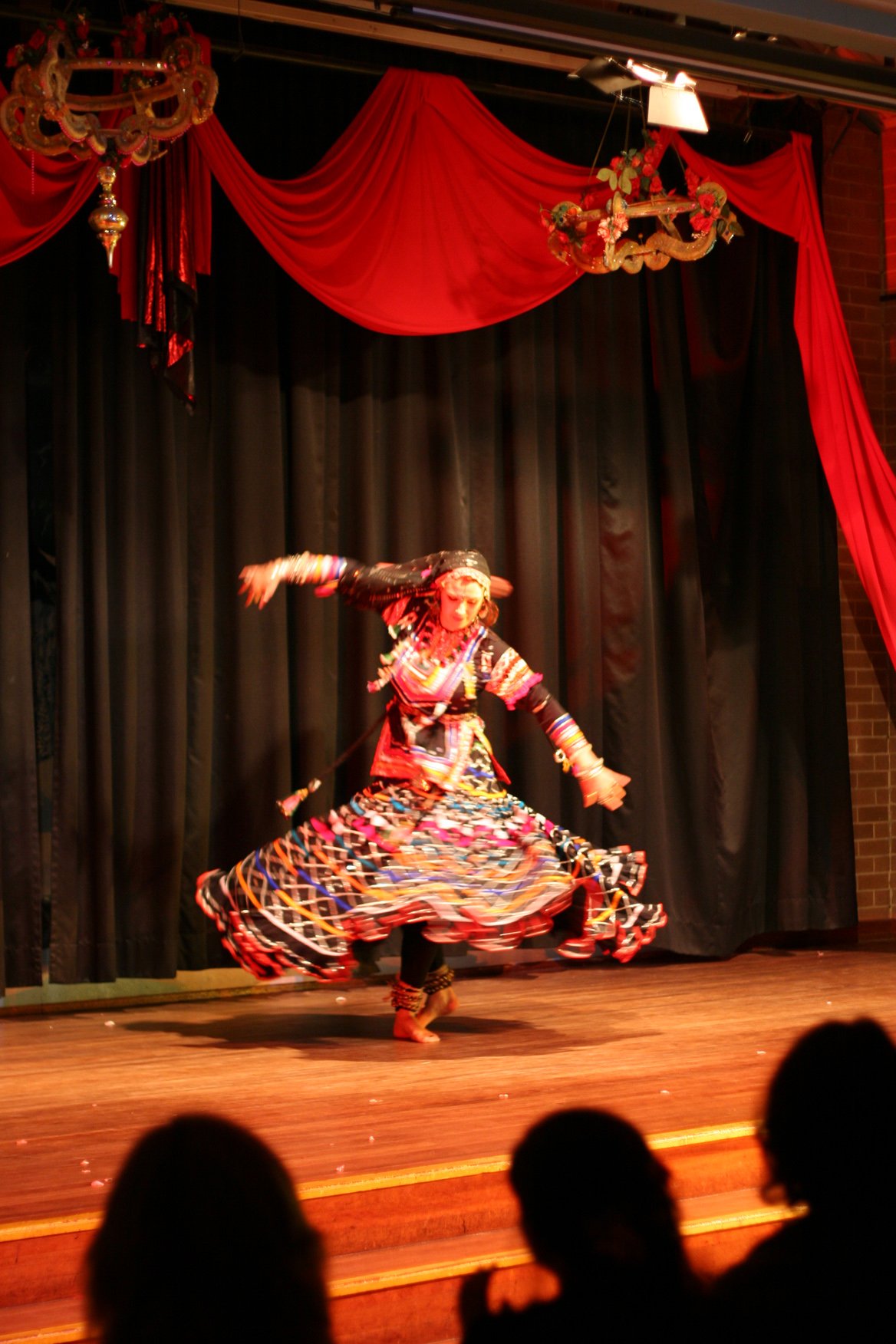 Khalbelia Folk Dance Workshops with April
Come to the Blue Mountains or sponsor workshops in your area.
As seen in the film Latcho Drom, this beautiful dance style is native to the semi-nomadic Snake Charming Caste of Rajasthan, the Khalbelia.
April spent four months in 2009 and three months in 2010 living in Rajasthan, India, studying and performing with the Khalbelia people on a regular basis.
Workshops contain a short information session about the Khalbelia people, then demonstrate their vivacious, colourful and energetic dance. This dance form features stamping, spins, mudras, skirt movements and expression of personality, it is full of fun and 'gypsy' flair! Khalbelia workshops can be tailored for beginner and advanced dancer alike.
April has studied ATS® since 2002 and been a member of Ghawazi Caravan since 2006 as well as taught ATS® for Ghawazi Caravan Studios and at the Shakti School of Dance in Pushkar, so is aware of how fascinating true tribal cultures are to bellydancers, and how beautifully Indian movement can be utilised in other styles. She would love to promote and share this dance in Australia.